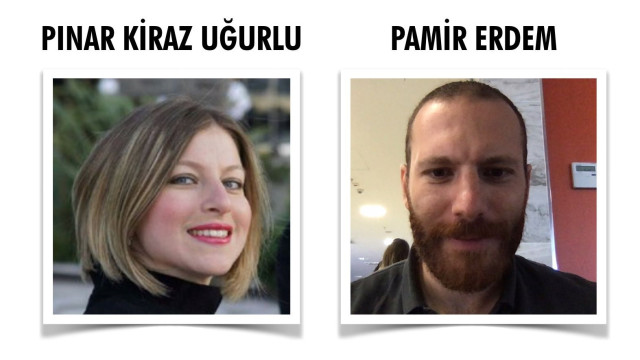 Konuşmacılarımız: Pınar Kiraz Uğurlu & Pamir Erdem
Pınar had her bachelor degree in Bilkent University Computer Engineering Department in 2002 and Masters of Business Administration from Boğazici University in 2006. Pınar started her career in IBM Turkey in September 2002 as a Developer Consultant then switched to Technical Presales and Software Architect roles. Pınar acts as a trusted advisor and dedicated client architect for strategic enterprise customers. Then joined HPE Software in December 2014 as a Software Business Consultant to develop the business in enterprise customers. Pınar has been part of enterprise scale digital transformation, application lifecycle management and devops related projects. After 15 years of broad IT experience; she joined Google as a Cloud Customer Engineer in August 2017. This proves that she has the passion for technical engineering roles and passion to learn. She is now taking active role in Cloud adoption and have special interest in Machine Intelligence.
Pamir is currently working as a solutions architect in Acedemand specialized on CI/CD pipelines and cloud native applications. His profession is low latency and high throughput applications since 2007. Coauthor of .NET Memory Dump Analysis. He was a Cyber Security Pyhton lecturer in Bilgi University. He is a Google Developer Expert on Google Cloud Platform and regularly organising meetups on Kubernetes to share his experiences on production systems.
====== Etkinlik Sponsoru
Etkinlik sponsorumuz Koçfinans [1]'a çok teşekkür ederiz.
[1] https://www.kocfinans.com.tr
====== Mekan ve Ulaşım:
Otopark: Katılımcılarımız Koç Çamlıca İş Merkezi'nin hemen yanındaki Emaar AVM'nin otoparkını (ücretsiz) kullanabilirler.
Ulaşım: Koç Çamlıca İş Merkezi'ne toplu taşıma üzerinden en yakın Ünalan Metro İstasyonu (1 numaralı Üsküdar Belediyesi çıkışı) veya Acıbadem Metrobüs durağı üzerinden, taksi veya otobüs ile ulaşım sağlanabilir. (Moovit üzerinden rota çizebilirsiniz [2])
Adres: Koç Çamlıca İş Merkezi, Koçfinans Seminer Salonu A Blok -3 (Ünalan Mahallesi Ayazma Cd. Koç Çamlıca İş Merkezi A Blok 34700 Üsküdar / İSTANBUL)
[2] https://moovitapp.com/index/tr/toplu_ta%C5%9F%C4%B1ma-Ko%C3%A7_Holding_%C3%87aml%C4%B1ca_%C4%B0%C5%9F_Merkezi-Istanbul-site_21445689-1563