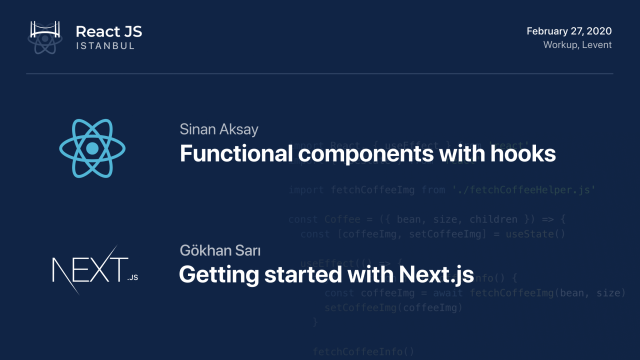 Tanışma toplantımızın ardından ikinci buluşmamızı Levent Kolektif House, Workup alanında gerçekleştiriyoruz. 27 Şubat 19:00'ı takvimlerinize eklemeyi ihmal etmeyin. Bendeniz Sinan Functional component'lar ve hook'lardan bahsedeceğim, Gökhan ise Next.js hakkında bilgi verecek. Etkinlik için kontenjan 75 kişiyle sınırlı olacak. ⚛
Program şu şekilde:
19:00 - Tanışma, sohbet ve networking
19:30 - 🗣 "Functional components with hooks" - Sinan Aksay
20:00 - Küçük bir mola
20:30 - 🗣 "Getting started with Next.js" - Gökhan Sarı
21:00 - "Bir sonraki etkinlikte ne konuşsak?" - React JS İstanbul
21:30 - Kapanış ve veda
Konuşmalar ve konuşmacılar hakkında
Functional components with hooks
Bu konuşmada Sinan, functional ve class component'ların farklarını açıklayıp, React'e yeni eklenen hook'lar sayesinde functional component'larda state ve lifecycle gibi özelliklerin nasil kullanıldığından bahsedecek.
Sinan Aksay hakkında
https://wunnle.com
San Francisco'da bir startup olan SwayPay'de front-end developer ve UI/UX designer.
10 yılı aşkın süredir yazılım ve tasarımla uğraşıyor. React, Gatsby ve Next.js'e epey meraklı.
Getting started with Next.js
Bu sunumda Gökhan, Next.js'in sunduğu özellikleri çözdüğü sorunlarla eşleştirerek anlatacak, React'e aşina ve Next.js'e göz kırpan dinleyicilere ısınma turunda eşlik edecek.
Gökhan Sarı hakkında
https://twitter.com/hgokhansari
Geceleri WebGazer kurucu ve CEO'su, gündüzleri Gamer Arena'da Software Development Lead.