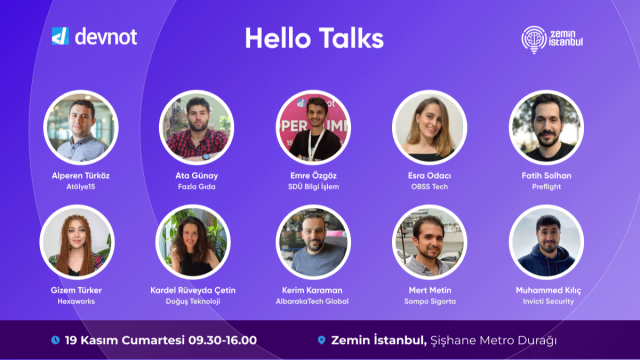 İlk olarak geçen yıl online düzenlediğimiz ve topluluk karşısında ilk sunum heyecanını yaşamak isteyen yazılımcılara özel etkinliğimiz Hello Talks 19 Kasım Cumartesi günü gerçekleşecek.
Etkinlik Programı
9.30 Ruby on Rails ile Web Uygulamaları Geliştirme (Ata Günay - Fazla Gıda)
10.10 Refactoring with Aspect Oriented Programming (Mert Metin - Sompo Sigorta)
10.50 Developing Backend Applications with NestJS (Emre Özgöz - SDÜ Bilgi İşlem Daire Başkanlığı)
11.30 NestJS ile Microservice Mimarisi (Abdulkerim Karaman - AlbarakaTech Global)
12.10 Yazılımcının Gözünden "Agile" (Kardel Rüveyda Çetin - Doğuş Teknoloji)
12.40 Ara
13.00 Event Loop (Fatih Solhan - PreFlight)
13.40 Sustainable End to End Type Safety with GraphQL (Alperen Türköz - Atölye15)
14.20 Android Foldable Cihazlarda Uygulama Geliştirme (Esra Odacı - OBSS Tech)
15.00 VIPER Architecture Pattern in Swift (Gizem Türker - Hexaworks)
15.40 The Anatomy of Continuous Integration Tools (Muhammed Kılıç - Invicti Security)
* Program akışına göre bazı sunumlar 10-15 dakika erken başlayabilir. Dinlemek istediğiniz sunumdan en az 20 dakika önce Zemin İstanbul'da bulunmanızı öneririz.
* Etkinlikte bazı katılımcılarımızı sürpriz hediyeler bekliyor(yazılım kitapları ve swag kit'ler)
Speakers

Alperen Türköz
Sustainable End to End Type Safety with GraphQL, Atölye15

Ata Günay
Ruby on Rails ile Web Uygulamaları Geliştirme, Fazla Gıda

Esra Odacı
Android Foldable Cihazlarda Uygulama Geliştirme, OBSS Tech

Gizem Türker
VIPER Architecture Pattern in Swift, Hexaworks

Kardel Rüveyda Çetin
Yazılımcının Gözünden "Agile", Doğuş Teknoloji

Abdulkerim Karaman
NestJS ile Microservice Mimarisi, AlbarakaTech Global

Mert Metin
Refactoring with Aspect Oriented Programming, Sompo Sigorta

Emre Özgöz
Developing Backend Applications with NestJS, SDÜ Bilgi İşlem Daire Başkanlığı

Fatih Solhan
Event Loop, PreFlight

Muhammed Kılıç
The Anatomy of Continuous Integration Tools, Invicti Security
Talks